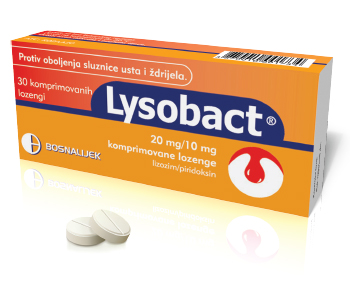 Lysobact® compressed lozenges contain two active ingredients in one formulation: lysozyme and vitamin B6. One Lysobact® compressed lozenge contains 20 mg lysozyme chloride and 10 mg pyridoxine chloride (vitamin B6).
Lysozyme is a unique substance of natural origin, which is a significant factor of natural immunity and via its multiple beneficial therapeutic effects it helps in the protection and healing of the mouth and throat mucosa.
Active components of Lysobact®:
act against inflammation agents (bacteria, viruses, and fungi)
alleviate inflammatory process
help healing of wounds and mouth cavity mucosa lesions
protect mouth cavity and throat mucosa
strengthen the local immune response
produce a mild analgesic effect
Lysobact® is an excellent choice for treatment of:
mild sore throat not accompanied by elevated body temperature
aphthae
small mouth wounds
Contrary to other products in the market which are mostly recommended for symptomatic therapy of viral infections, Lysobact® can also be given in the combination with antibiotics, which improves their antibacterial effect, and enables a reduction of the antimicrobial dose; it can also be used in case of poor tolerability of other antimicrobials.
It is used in adults and children over 6 years of age.
Ova stranica je također dostupna na: Bosnian Albanian Macedonian Serbian Ukrainian Croatian
Lysobact® acts on causative agents of oral and throat inflammations, alleviates the inflammation and its symptoms, speeds up healing and can prevent development of more severe infections and inflammations.
Due to its natural ingredients, Lysobact® is one of the safest medicines of its group.
Only Lysobact® products contain lysozyme, a natural substance which show eight beneficial effects on the oral and throat mucosa!
Lysobact® is one of the most often used products in the local therapy of sore throat and all minor infections of the oral mucosa. So far Lysobact® has been used by more than 50 million people around the world.
There are no serious contraindications for the use of Lysobact®.
The use of food and drinks does not affect the efficiency of Lysobact® compressed lozenges.
The medicine is used without medical prescription.
This medicine is intended for adults and children over 6 years of age. The usual dose is 6 to 8 compressed lozenges during the day. The medicine is used orally (via mouth).
Compressed lozenges should be left to slowly dissolve beneath the tongue. There must be at least 1 hour interval between each intake. The treatment lasts for 5 days. If no improvement occurs after 5 days of treatment, it is necessary to consult a doctor.